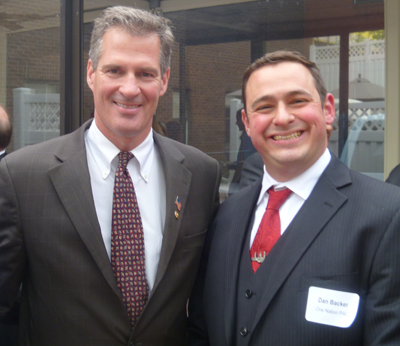 Dan Backer is the founding attorney of political.law, a premiere campaign finance and political law firm boutique in Alexandria, Virginia. He specializes in compliance with FEC reporting and regulations and currently serves as treasurer, assistant treasurer, or counsel to several PACs. Dan has extensive experience with non-profit, membership, grassroots, and public policy organizations and advocacy and in 2009 earned the American League of Lobbyists' prestigious Professional Lobbying Certification (PLC).
Mr. Backer is a staunch defender and advocate at the forefront of free speech and associational rights. He was Plaintiffs' counsel in McCutcheon v FEC (striking aggregate contribution limits, US Supreme Court) and Carey v FEC (Creating the Hybrid PAC, US District Court for the District of Columbia). He is admitted to practice law in both Virginia and the District of Columbia, and before the U.S. Supreme Court, U.S. Court of Appeals for DC, and the US District Courts for the Eastern & Western Districts of Virginia, Western District of Wisconsin, and District of DC. Mr. Backer has a Bachelor's in Political Science from the University of Massachusetts Amherst, a JD from George Mason University Antonin Scalia School of Law, a Masters Degree in Political Management and Masters Certificate in PAC Management from George Washington University Graduate School of Political Management, and the Professional Lobbying Certificate (PLC) from the American League of Lobbyists. Mr. Backer was a 2014 recipient of the prestigious William F. Buckley Leadership Award of the Young Conservatives Coalition.
Dan volunteers with several collegiate educational organizations and has received numerous awards for leadership and service. He resides in Arlington, Virginia with his wife Erin.